Why Hire a Mergers & Acquisitions Advisor?
December 20, 2021
As a business owner, you're used to making big and small decisions throughout each day to help your company succeed. One of the most significant decisions you may ever make is whether or not to sell your business. With years of hard work, money and your future on the line, you have a lot to think about.
Hiring a mergers and acquisitions (M&A) advisor can make this vital decision feel more manageable. An M&A advisor can use their connections and expertise to optimize the sale of your business.
The Benefits of Hiring an M&A Advisor
When you decide to sell your business, finding a potential buyer is just one priority. Throughout the selling process, you need to operate your business as usual to ensure you reach your projected financial results for the fiscal year of your sale. Continuing to grow your business will increase its value and prevent buyers from backing out at the last minute.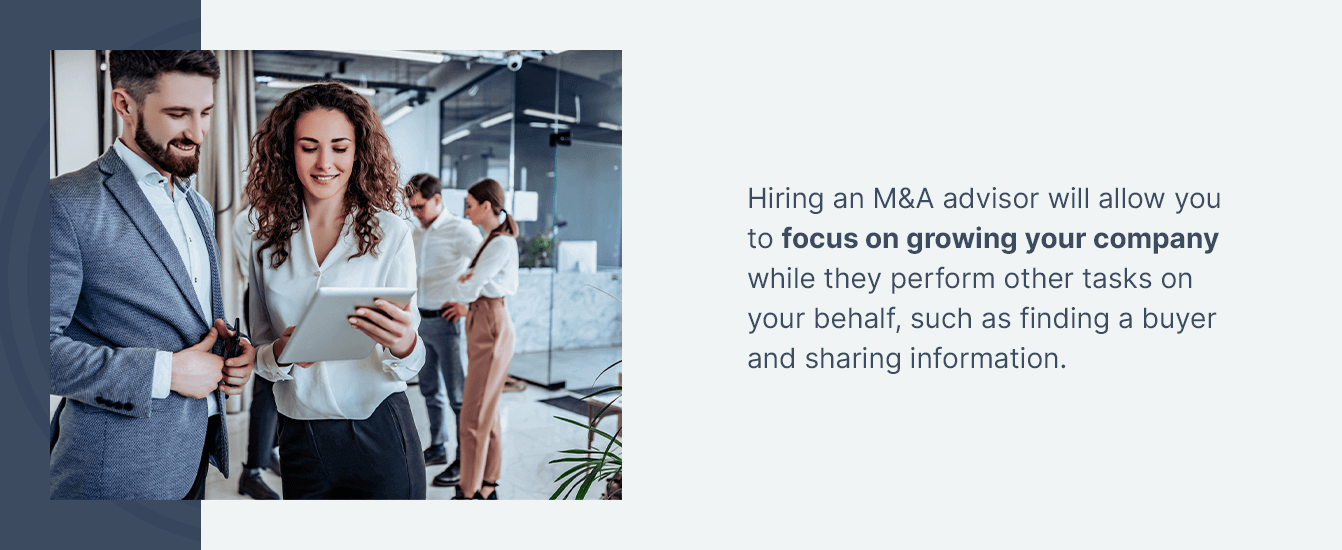 Hiring an M&A advisor will allow you to focus on growing your company while they perform other tasks on your behalf, such as finding a buyer and sharing information. Your M&A advisor can also:
Navigate transaction obstacles.
Provide access to a larger pool of buyers.
Manage negotiations to avoid leaving money on the table.
Act as a buffer between buyer and seller.
Maximize transaction value.
Prepare you for the next steps with their complete understanding of the buying and selling process.
Keep the transaction process moving forward and on pace.
You can also dedicate more of your attention to your business, keeping its value up until the moment the sale closes.
What to Look for in a Sell-Side M&A Advisor
As you look for an M&A advisor to help you sell your business, you'll want ask these key questions:
Does your advisor understand you, your company and your goals for the sale?
Do they have experience working with businesses in your sector?
Will they adequately prepare you or manage your expectations?
Do they have a proven reputation, testimonials, credentials or accolades?
Take as much time as you need to evaluate potential advisors to ensure you make the right choice for your business. At Three Sixty Seven Advisors, we understand how important it is to work with an advisor you trust. Our team uses ethical, transparent business practices to build a strong foundation of respect and ensure success for your business.
Partner With Three Sixty Seven Advisors Today
Three Sixty Seven Advisors is a middle-market M&A transaction process advisory firm you can trust. Our knowledgeable team uses years of industry experience to help business owners of all sizes achieve the best outcomes in transactions. To learn more about what sets us apart, contact us today.